Bounty Hunter Junior Metal Detector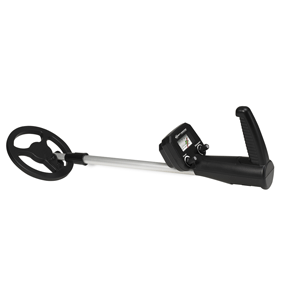 GENERAL INFORMATION
Manufacturer:
Bounty Hunter
SKU
Description
List Price
BOUNTY HUNTER NYLON CARRY BAG CBAG UNIVRSAL CARRYING BAG
29.95
BOUNTY HUNTER POUCH AND DIGGER TP-KIT POUCH AND DIGGER COMBO
24.95
BOUNTY HUNTER GOLD PROSPECTING KIT
39.99
BOUNTY HUNTER PRO GOLD PROSPECTING KTI
59.99
BOUNTY HUNTER HARDROCK PROSPECTING KIT
109.99
Professional metal detecting features for a junior size detectorist

Extends to 2 1/4'

Discrimination control will eliminate iron and most unwanted items

Speaker sound increases as target gets closer

Lightweight, ergonomic design for easy handling and comfortable use
Analog/Digital Display
Analog
Product Dimensions
22"H x 5"W x 6"D
Box Dimensions
5"H x 7"W x 23"L WT: 2.0lbs
Categories
Outdoor | Metal Detectors

Old Category
METAL DETECTORS
Copyright 2013 CWR Electronics. All rights Reserved.
All products, services and/or company names mentioned herein are trademarks of their respective owners.