Xantrex TRUECHARGE™2 Remote Panel f/20 & 40 & 60 AMP (Only for 2nd generation of TC2 chargers)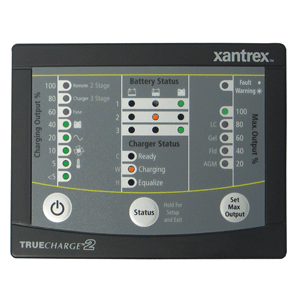 TRUECHARGE™2 Remote Panel
Advanced Remote for Monitoring and Full Control of Battery Charger Performance.
The TRUE
CHARGE
™2 Remote Panel is designed for use with TRUE
CHARGE
™2 Battery Chargers. This full-function remote allows you to monitor and control battery charger performance from a remote location, including features not accessible from the charger's onboard display. The TRUE
CHARGE
™2 Remote Panel reads like a fuel gauge and displays critical information on charging of battery banks. It is very easy to install, read and operate, connecting with the battery charger through the included telephone cable.
Product Features
Gives the user flexibility to set maximum charger output current

Allows the charger to be powered on or placed into standby while AC power is connected

Programs the charger for battery type and temperature

Displays faults and warnings, basic battery level and settings

Displays the current status of each battery or each battery bank

Simple push buttons to change charger settings

FCC Class B compliant
Product Includes
TRUECHARGE™2 remote panel

7.6 m (25') 6-conductor crossed telephone cable (part# 31-6257-00)

Mounting template and 1-½" NPT locknut for mounting
Copyright 2013 CWR Electronics. All rights Reserved.
All products, services and/or company names mentioned herein are trademarks of their respective owners.