SportsStuff Pool & Beach 2UP Lounge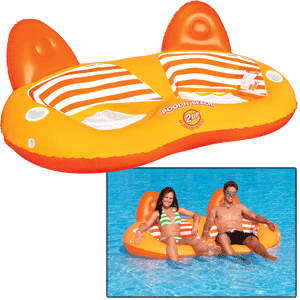 GENERAL INFORMATION
Manufacturer:
Sportsstuff
SPORTSSTUFF® POOL & BEACH 2UP LOUNGE
54-1982

Link 2, 3 or 4 POOL N' BEACH 2 UP Lounges together and have a floating party! This 2 person designer lounge is built for comfort, with 2 mesh seats and air filled headrests. The fashionable striped "creamsicle" design will look great in any pool. It's equipped with integrated connectors to link 2 or more together, 2 molded drink holders and a rope holder for tethering in lakes. The thick, durable 20 gauge K80 construction ensures long service. Equipped with a Speed Safety Valve for fast and easy inflating and deflating.

Size: 1-2 person, 48 in. x 77 in. (deflated) 44 in. x 73 in. (inflated)
Box Dimensions
5"H x 12"W x 14"L WT: 8.1lbs
Categories
Outdoor | Watersports
Watersports | Pool Floats

Old Category
FISHING/WATERSPORTS
Copyright 2013 CWR Electronics. All rights Reserved.
All products, services and/or company names mentioned herein are trademarks of their respective owners.